As the automotive world continues its inevitable march into electrical compliance, worries that there won't be enough technicians qualified to service the influx of new electrical cars become more and more pressing.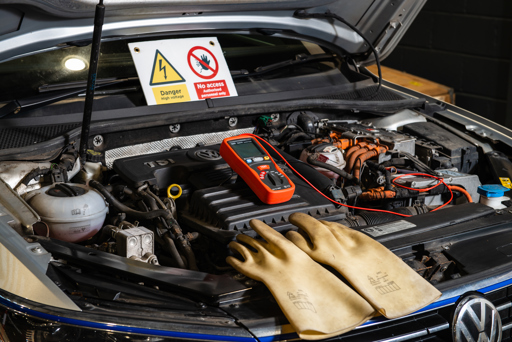 By 2030, the government's cut-off point for the selling of cars with a combustion engine, the IMI (the Institute of the Motor Industry) estimate an additional 35,700 technicians will be needed to service the electric and hybrid cars that are predicted to be on British roads.
Steve Nash, CEO of the IMI, explains:
'Our recent data highlighted that 90,000 automotive technicians will be required to provide sufficient workforce to service the volume of zero-emission vehicles predicted to be on UK roads by 2030 – the government's Road to Zero deadline. And because of the accelerated adoption of EV, we are predicting a shortfall of 35,700 technicians by 2030, with 2026 marking the point at which the skills gap will materialise.'
This is why the IMI are pushing for more technicians to become IMI TechSafe-recognised, ensuring more technicians are prepared for the electric shift in the automotive industry.
What is IMI TechSafe?
IMI TechSafe is, simply put, a professional recognition within the IMI Professional Register. It means that any technician that is registered as TechSafe has met a minimum requirement of expertise within the EV and hybrid field and has demonstrated a level of competence when dealing with EV-specific systems, such as Advanced Driver Assistance Systems, or ADAS.
However, this is only part of the requirements to become TechSafe. Technology is constantly changing and evolving – particularly in hot button industries such as the automotive and EV industries, so expertise in EVs today may be outdated in just a matter of years. This is why the requirements to become TechSafe also include a commitment to remain up to date on all EV-related developments through mandatory continuous professional development (CPD). CPD requirements are decided by an IMI Sector Advisory Group and will be reviewed and updated regularly to ensure that the requirements remain relevant to customers' needs and concerns.
What are the benefits?
The main benefit of becoming TechSafe is the assurance that will be afforded to customers coming to you for EV services. EVs are constantly evolving and becoming more and more sophisticated – if something goes wrong with them, there could be catastrophic consequences. Customers need to know that their technician is an expert with both traditional motors and EVs if they are to feel safe driving their EV or hybrid. By becoming TechSafe, technicians will be able to confidently demonstrate that they have reached and maintained a specific level of expertise with EVs and hybrids, reassuring any potential customers.
However, the benefits aren't just for customers. To become TechSafe, it's necessary to upskill your abilities, making you a better technician. While this is nice in and of itself, this comes with the added bonus of increasing your earning potential, with IMI data analysis showing a 10% boost to earnings for EV-accredited technicians – that translates to an additional £3,700 a year!
How to become TechSafe-recognised
Becoming TechSafe-recognised is simple: just complete IMI-accredited EV training courses to improve your EV expertise. Once you have reached a suitable level of qualification, you can join the IMI membership community and enrol on the IMI's Professional Register to gain TechSafe recognition.
Do remember, becoming TechSafe recognised includes a commitment to CPD requirements, which are updated every three years.
If you want to get yourself or your employees ready for the future of the automotive industry, then GTG has a range of IMI-accredited EV courses available all year round. We have first-class facilities that offer practical hands-experience and expert trainers on hand to provide guidance and support at every stage of the learning process. GTG also customise each learning experience, creating bespoke educational processes that work for our learners, as we know that there is no 'one size fits all' when it comes to education.
If you would like to know more about our range of EV courses, please click here.