Neil was a frontline infantry soldier with 4 Scots in the Royal Regiment of Scotland. He served for 22 years, and now works as an SVQ Assessor at GTG Glasgow. Here's his resettlement story.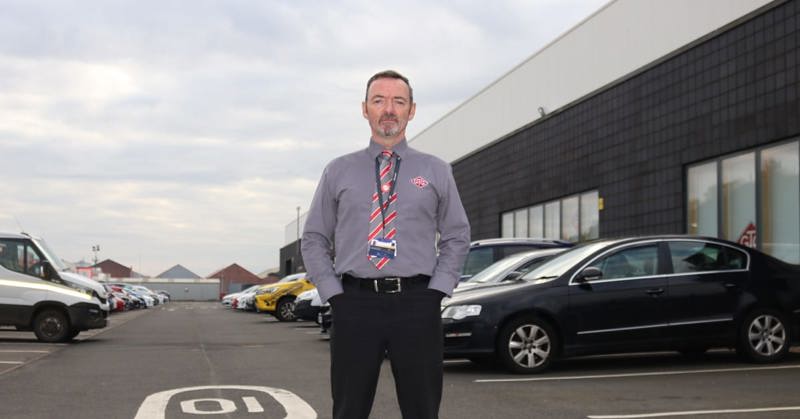 What was your role in the army?
'I did a number of jobs, from working with guided missile systems and gunnery instruction, to recruitment, and working as a transport warrant officer.'
What sort of skills and qualifications did you learn there?
'I ended up training people but I trained myself, too; I completed three MVQs; Level 2 in IT, Level 3 in Customer Service and Level 3 in Forklift Operation. I also achieved a Command, Leadership and Management qualification (CLM) when it was introduced by the army.'
Why did you choose GTG to retrain?
'The army put me through resettlement two years before the end of my 22 years' service. I already had my Class 1 and 2 HGV licences, and I came to GTG to train with trucks and do refresher courses.'
When did you start working at GTG?
'I began my role in January 2014. A friend asked if I would be interested in working here, so I handed in a CV to apply for an instructor's role. Since I started at GTG it's been really easy for me to fit into the role.'
How was the prospect of finding civilian work?
'I enjoyed my time in the army, and in some ways, I still miss it, but I was ready to leave. The transition to civilian work worked out very well for me – I started a new job here as soon as I left the army.'
What do you enjoy most about working at GTG?
'I enjoy working with people and seeing them progress in different areas. It's always great to see learners pass courses because you're training them and making sure you're giving them the support they need. I would highly recommend GTG as a place to work, and also to learn, because the training for candidates is delivered to a very high standard. It's all meant coming to work at GTG has been an easy transition.'
What's the biggest difference between military and civilian environments?
'A big one is the pace of working life. In the army, you're on the go, ready to carry out plans quickly, so you've just got to adapt the way you work in civilian life, perhaps slow down a bit, and accept that certain things can always be done 'tomorrow' – allowing for the needs of the course, and candidates.'
What do you think people from a services background can bring employers?
'Ex-service personnel bring lots of good qualities to a civilian employer, like integrity, loyalty and reliability. Personal presentation is a big thing, too – it's drilled into us.
'My advice to others thinking about a career after the armed forces would be not to give up, to keep working hard, and you'll get what you're looking for.'
GTG offers a range of MOD-approved courses through ELCAS. To find out more, please contact Heather McNeill, GTG Glasgow Resettlement Coordinator, on 0141 950 5621 or by emailing Heather.McNeill@gtg.co.uk.