GTG and Lothian Buses have been linked by an apprenticeship training partnership for the past six years, in a relationship that has only grown during that time.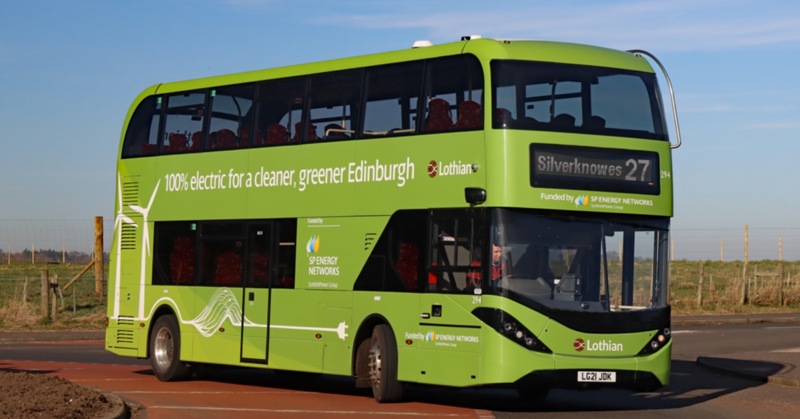 GTG visited Lothian Buses at their depot on the outskirts of Edinburgh to hear from several of the apprentices about their bus and coach automotive apprenticeship journey – and how GTG has helped them take key skills onto the workshop floor.
Zaki Sajid, Bus and Coach apprentice, Lothian Buses
'I'm currently in my third year of my apprenticeship and have had the chance to learn about lots of different elements of the bus and coach side of automotive.
'I have learned to work on several different areas during my apprenticeship.
'There's maintenance of a bus interior, body panels, any damaged buses that come in.
'Then there's refurbishment, stripping out and replacing features in the bus, such as the flooring and seat covers, or making repairs to the bus's chassis, which sees you work with fibreglass, repairing bumpers, or sanding down and finishing, then painting. It's good to know I already have experience of working on a range of features in and around the vehicles.
'What I've enjoyed most is the journey I've been on. From where I started, I didn't have a lot of confidence; I wasn't sure of myself and not as capable as I am now. So, seeing where I am now compared to when I started has been the best experience for me.
'GTG has helped me a lot during my apprenticeship. One aspect I've enjoyed is getting the mix of theory and practical training at GTG, allowing me to take what I've learned from there and putting it into practice in my job at Lothian Buses.
'The trainers have been great with me. They've always explained things very well to me and have always been there to help. The information I've picked up has been really relatable to the demands of my role.
Helen Mabon, Bus and Coach apprentice, Lothian Buses
'I really enjoy the atmosphere at work. My colleagues are great, we laugh a lot and at the same time I'm learning loads as well – everything from the basics to working on specific parts of the vehicles like alternators.
'In terms of our training, the staff at GTG were brilliant. They really know what they're talking about and have given us the skills and knowledge we need to be able to carry out the work we do at Lothian Buses.
'If I had any advice for anyone thinking about doing this apprenticeship, it would be to go for it. I feel like I've surprised myself with what I've learned so far and what I can do now in the workshop, and that could be the same for others thinking of applying for this apprenticeship.'
Evan Dower, Bus and Coach apprentice, Lothian Buses
'I put myself forward to do this apprenticeship after being sent the advert through a friend.
'The apprenticeship has been great, there's been a bit of everything within the bus and coach area, such as electrical, mechanical, learning about different vehicles, as well as classroom learning, too.
'I prefer the practical side myself, and I feel I've learned a lot through working hands-on. But the trainers at GTG have definitely helped us during the apprenticeship by teaching us lots of skills and principles in the classroom that have proven really useful in the workshop. The trainers are always available too if you have any issues at all during your apprenticeship training.'
'Of course, it's hard work, and on a busy day you can be tasked with repairing an engine or using diagnostic equipment, but when you're working on different jobs, it means learning new things and that's a big motivation for me.
'My advice to any new apprentice would be to stick in there – you're never alone, so however much you might struggle at any point in your apprenticeship, there is always help and support there through your trainers at GTG and, on a personal level, from my colleagues at Lothian Buses.'
David Lamb, Electrical and Mechanical Engineering Apprentice, Lothian Buses
'Since starting my apprenticeship, I've really learned the value of working within a team and have enjoyed the opportunity to work hands-on with a range of vehicles.
'I've learned to better communicate with others at work, too, which is important when you're working on more complicated jobs as part of a team.
'GTG were fantastic, teaching the fundamentals of mechanics, and delivering the classroom learning and practical training in a way that allows me to draw upon them in the workplace. I've always felt too that if you're struggling with the theoretical side of the course, then they really make the effort to help you get there, to cover any areas you're finding tough.
'My advice to future apprentices would be to the course with an open mind. Be keen to learn, be ready to challenge yourself using your skills and on jobs you haven't worked on before. That way, you'll gain experience, build confidence, and improve your skills all the time.
'It will surprise you, too, what skills you can apply outside of work, whether that's helping to work on your own vehicle, or a friend's car – the course gives you valuable real-world skills in both electrical and mechanical areas that most people just don't have.'
Dylan Dastey, Chief Engineer, Lothian Buses
'GTG offers us a bespoke service to help us introduce new automotive talent into our business. They sit down and talk to us, finding out what we are looking for from prospective candidates in terms of skills. They offer the best training package that we can see in the industry.
'GTG are involved from the start of the recruitment process, from the candidates' initial applications through to aptitude testing before the candidates arrive at Lothian Buses for interview.
'It means that by the time the recruitment process is completed, GTG has already identified the applicants who have the skillset we're looking for to take our business forward and help future-proof our operations.
'Across the automotive industry we are facing a skills shortage and being able to discuss our operational plans for the future, such as improving both our present and future employees' skill sets in areas such as zero-emission technology and electric and hybrid vehicles, is very valuable.
'When our apprentices go to GTG Edinburgh, they'll study week-long classroom blocks throughout the year, as well as learning practical skills to take back into the workplace. GTG's high level of training offers our apprentices a clear pathway, equipping them with a range of skills to take into the workshop environment, reaching a skill level of that we would be expect, in order to help drive forward our business and keep our fleet of vehicles in service.'
Colin Gardner, Bus & Coach/HGV Automotive Instructor at GTG Edinburgh
'GTG Edinburgh's partnership with Lothian Buses goes back to 2016, when we were chosen as the training provider for the operator's bus and coach apprenticeship programme for the full four years of the course.
"We are dedicated to delivering training with the highest professionalism, and expertise in our field, with our bus and coach trainers offering a wealth of experience.
"Apprenticeship programmes can be challenging, but at GTG we work hard to ensure the apprentices learn and develop. While working for GTG, I have had the pleasure of completing more than 15 learners from Lothian Buses. It's truly rewarding to see them progress, complete the apprenticeship programme, and embark on careers as bus and coach technicians and body repairers.'