Automotive Technician Gary Moore is GTG's Apprentice of the Year for 2022. Find out what he and his apprenticeship mentor had to say about receiving the award.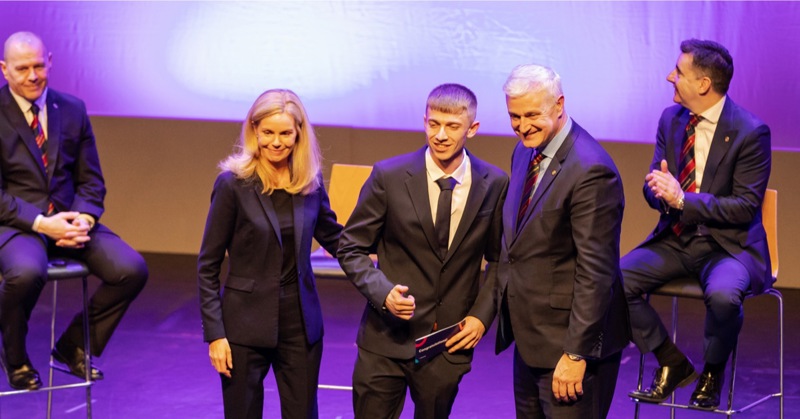 Third-year GTG apprentice Gary Moore was delighted to win the annual GTG Apprentice of the Year award.
Collecting his trophy at the recent Arnold Clark Recognition Awards at the SEC Armadillo, Gary, who is on the cusp of starting out as a time-served automotive technician, offered an insight into his apprentice journey so far and how it felt to be recognised as a top-performing apprentice in the Group.
He said: 'It's a great feeling to be named Apprentice of the Year. You don't think when you are starting out about winning this kind of award, but I am grateful to my trainers, mentors, and the colleagues I work with at the Burton Motorstore who have all played a part in me winning this award.
'We've worked on a lot of different parts of automotive during our training on the way to sitting our End-Point Assessments, and I'm grateful to GTG for the help and support they've given throughout my apprenticeship.'
Gary's apprenticeship has covered automotive elements such as light vehicle awareness.
Kevin Hall, a GTG Development Coach based at GTG West Midlands and Gary's workplace coach, outlined the hard work and application that set Gary on his way to winning Apprentice of the Year.
Kevin said: 'I've known Gary for his whole apprenticeship, and he has done very well to say the least.
'In the early stage of his apprenticeship, back in 2020, he was called back early from furlough and looked determined to do well. He has excelled since.
'To give some examples of Gary's good work: he helped implement his branch's one-way signage, in place at the time, while in his own department he has helped on a number of jobs where there have been staff shortages.
'Gary has passed his classroom tests and practical assessments first-time; he retains knowledge really well and puts it to use. But he isn't content just to sit back and rest on his laurels; he is proactive, which, in an employee, is an asset to any business.
'The quality of Gary's work and his positive attitude throughout has set a shining example to future apprentices.'
Build your career, and learn from the best, through a GTG apprenticeship.